Ibland när jag kommer hem från mina studier på eftermiddagen så är det gött att slå sig ner med en kopp kaffe och bara kolla på något. Jag har, sedan i somras, haft en favorit för de här stunderna. Last Week Tonight med John Oliver. Det är ett lagom program att se när jag tar en paus i vardagen.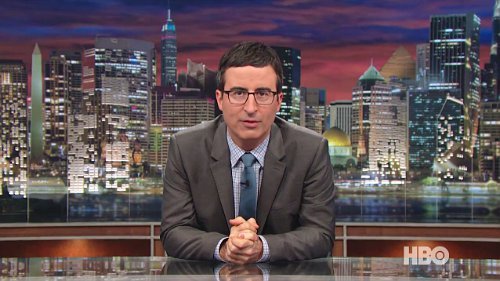 Last Week Tonight är en veckovis pratshow som leds av John Oliver. Oliver är en britisk komiker som medverkat i The Daily Show och sedan i april haft en egen show på HBO. Den ligger på HBO-nordic och är en komisk rapportering av veckans nyheter. Jag har inte kollat så mycket på pratshower och vet därför inte riktigt hur de brukar vara uppbyggda. Men det jag sett så är det ofta lite skämt, följda av lite innehåll som ofta innefattar en kändisgäst. I Last Week Tonight är det sällan gäster utan istället är det ganska djuplodande reportage om olika samhällsproblem. Det är en kombination av riktig journalistik och humor som håller väldigt hög nivå.
Roligast är det såklart när nyheter som ligger nära oss tas upp. Bland annat skämtades det om ubåtsjakten i Stockholms skärgård. Kul. Nyheter från USA som nått hit är också kul. Mindre kul är det kanske med väldigt USA-centrerade grejer, det är lite svårt att hänga med. Men formatet är sådant att det går att skratta med ändå. De lyckades få mig att båda skratta och bry mig om amerikanska mikrolån i Texas.
Det 24:e och sista avsnittet den här säsongen kom häromveckan men det kommer en ny säsong 2015. Goa tider. Så vill du ta en liten paus och bara njuta av lärorik humor, kolla på Last Week Tonight.
Jag kan avslutningsvis passa på att tipsa om John Olivers podcast The Bugle. Mycket rolig. Sök på iTunes.