Det råder en viss förvirring. Ska vi säga Vita Huset eller The West Wing. Allt som oftast råkar vi säga White House även om vi för det mesta kort och gott säger Westwing. Vi rationaliserar bort både
the
och den lilla betoningen på
west
som nog ska till om allt ska vara korrekt.
Hursomhelst. Jäkla bra är det.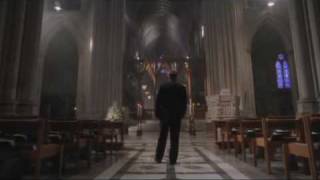 Vi har sett klart den andra säsongen nu och jösses vilket tårdrypande slut på bjöds på. Avsnittet
Two Cathedrals
var oerhört rörande. Speciellt scenen när presidenten står själv i kyrkan och pratar med Gud. Där föll en och annan tår.
Annars har den andra säsongen varit den första lik. På ett bra sätt. Det har blandats politiska kriser med personliga kriser. Dessutom har hela MS-grejen tagit fart. Det är både intressant och väldigt gripande. I allmänhet tycker jag att The West Wing tar tag i svåra frågor på ett bra sätt. Det blir sällan några överdrivna brandtal eller andra hemskheter men det skojas heller inte bort (Lex Glee). Det är gött.
Frågan är vad vi hade tyckt om Vita Huset om vi varit konservativa amerikaner. Att säga att det är en kontroversiell serie är nog att ta i men lite stack den nog ut när den gjordes. I Bushs USA var den nog en skön ventil för liberala. Såhär över tio år senare sitter vi åtminstone och myser åt deras rimliga åsikter om vapen, homosexuellas rättigheter och företagssponsring av politiker. Dessutom görs det med glimten i ögat och med massor av humor. Väldigt likt The Newsroom.
Vi tar oss nu an säsong tre. Vi närmar oss attentaten mot World Trade Centre. Det ska bli väldigt spännande att se hur serien hanterar det.