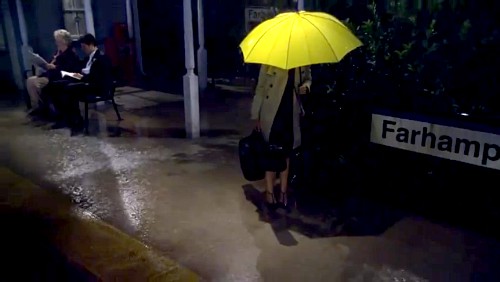 Säsongsavslutning på vad som verkar vara den näst sista säsongen av How I Met Your Mother. Äntligen har vi fått ett ansikte. The girl with the yellow umbrella. Mamman.
Allting faller ihop inför våra ögon. Samtidigt som allt verkar lösa sig. Lily och Marshall är på väg till Rom men vi får se hur det blir med det. Robin och Barney ska gifta sig, men Robin verkar inte så säker
längre. Vi fick aldrig se själva bröllopet. Kanske skiter det sig. Det får vi veta nästa säsong. Jag tycker att hela grejen med Robin och Barney bara hände, lite plötsligt. Plötsligt bara de skulle gifta sig, men det kan ju vara jag som inte hänger med ordentligt. Ted ska flytta till Chicago, va fan?
Men glöm det. Vi har fått ett ansikte under det gula paraplyet. De kommer ses på ett tåg. Jag längtar så att det gör ont. Den sista säsongen av HIMYM är jag säker på kommer bli bland det bästa som skapats för TV. Serien är redan ett mästerverk. Den är så obegripligt välskriven att den bara kan sluta på ett sätt. Med en jävla succéavslutning som vi sent kommer glömma.