Jag har försökt dra ut på det, dra ut för att det ska räcka längre. Men tillslut går det inte. Så nu har jag sett
sista avsnittet i säsong 2
av Sherlock. Mitt i all tentastress utgjorde detta ett väl valt och värdigt avbrott. Och vilket avsnitt sen! Som tur är tjuvtittade jag på IMDb, var där i något annat ärende, och såg då till min förtjusning att det kommer en säsong 3. Pjuh, då visste jag iaf att ingen skulle dö, eller hur var det med den saken?
Jag tyckte dock det var lite synd att jag inte riktigt hängde med i alla svängarna, något jag inte upplevt under de andra avsnittet. Men detta kan också ha berott på att jag precis haft en av de jobbigaste skolveckorna i hela mitt liv, huvudet var kanske inte riktigt med hela tiden.
En ska som var riktigt rolig var dock att
Katherine Parkinsson
spelade den kvinnliga journalisten. Hon spelade också i The IT Crowd som är en helt fantastisk serie, mycket värt en titt. Men en sak som jag inte gillar är hur fruktansvärt läbbig Moriarty ser ut, fy vad han sätter skräck i mig. Där har skaparna verkligen lyckats!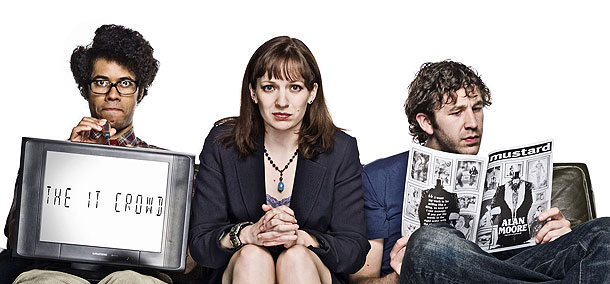 The IT Crowd
Nu längtar jag i alla fall otroligt mycket till säsong tre som vi nog tyvärr får vänta ett tag på enligt skaparna. Men den som väntar på någon gott, och herregud vad gott Sherlock är, väntar aldrig för länge!
Det jag hoppas inför nästa säsong är att vi får se mer grafiska upplevelser från Sherlock, när han tänker. Och kanske framförallt att
Molly
får en större roll, för hennes karaktär är riktigt spännande!
Sherlock, Molly och Watson